The mission of the Boston HBCU Alumni Network is to provide Boston area youth with leadership development skills, mentorship opportunities and exposure to educational resources. We specifically focus on bridging connections from high-school to college, and from college to career.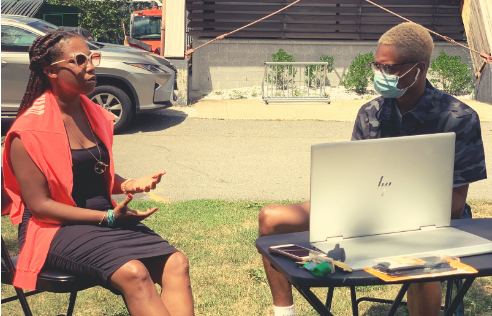 We believe that if we are able to provide youth of color a space to authentically engage with and learn from people that share similar upbringing and racial ethnic backgrounds that have successfully navigated post-secondary education and careers, then we can positively change the educational/professional trajectory of the next generation of Boston's youth of color.
George B. Cox Equity in Urban Education Fellowship
Named after prominent educator and HBCU Alumnus George B. Cox,
The Equity in Urban Education Fellowship through the Boston Public Schools (BPS) Office of Recruitment, Cultivation and Diversity (RCD) is designed to be an inclusive, project-based professional learning opportunity for undergraduates, students as they enter into the final phase(s) of their undergraduate careers, equipping them with the tools necessary to succeed in professional landscapes. Collaboration, professional learning,
and supporting the district of Boston Public School strategic plan are the three main drivers that will push the fellows' work throughout their fellowship (Semester or Summer).
To provide additional development opportunities, each fellow will receive the following services:
Interview preparation : Resume & Cover Letter Support and MockInterview Sessions,
Mentoring and Career Coaching – Intergenerational meetings, a learn series with a strong emphasis on career trajectory and shadowing.
After each fellowship, each fellow will be asked to deliver a capstone presentation that showcases their contribution to the BPS RCD team with any organizational suggestions that they might have based on information collected throughout the summer. and highlights their professional learning acquired throughout the summer/semester.
Boston Public Schools Teacher Cadet Program
The BPS Teacher Cadet Program is a district-wide pathway that identifies and cultivates culturally, linguistically and racially diverse high school students who will become the educators of tomorrow. Students are engaged as early as freshman year of high school and continuing through college graduation, TC Student-Scholars receive academic support and professional development. Scholars are tracked and supported through their experience exploring the field of education through lesson planning, teacher observations, and tutoring. They gain leadership skills, participate in college visits and conferences, and prepare for a teaching career. The BPS TeacherCadet Program engages Scholars in monthly meetings, college visits and conferences, and a curriculum focused on teacher education, college access, and leadership development. The model engages students from all grade levels in high school through college graduation
Boston Day and Evening 2.0 Mentorship Program
In partnership with City Year and the Boston Day and Evening 2.0Academy (BDEA), the Boston HBCU Alumni Network will present a series of mentorship events, including but not limited to: recruitment fairs, mentor-match orientations, and special in-person events to engage students with potential and matched mentors from ourNetwork who are eager to provide educational and socio-emotional support and guidance. The goal of this partnership will be to pair our vast network of HBCU Alumni who are prepared to advise and pipeline BPS students from secondary school into post-secondary opportunities such as college and trade school.